Roofing Monkey can be your long-term roofing company since we offer a full array of commercial roofing services. This means that we're the ones that can install a new roof and then continue maintaining it in the years that follow! If you are in St. Croix, WI, call us at 715-716-6493 to get a free estimate.
Roof Inspections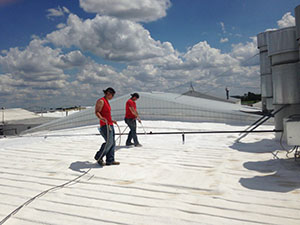 Choose Roofing Monkey to take the lead on roof inspections and you'll be able to hold on to your existing roof for a lot longer! We inspect roofs for free and do a great job of finding all roof problems. Our thorough roof inspections allow us to deliver comprehensive commercial roofing services that will keep your roof going strong.
Maintenance & Repairs
At Roofing Monkey, our craftsmen have been fixing up commercial roofs for many years. We have a great track record when it comes to roof maintenance and repairs, and you can trust that we will do the job right on the first visit! Our roofers are qualified to maintain all sorts of roofs!
Roof Restoration
You may already be familiar with the benefits of roof restoration. At Roofing Monkey, we use roof coatings to help protect roofs. Our roof coatings have shown to greatly increase the lifespan of commercial roofs. Lowering energy costs is another reason to restore your roof with a roof coating. You'll save big on energy bills for years thanks to its reflectivity!
Roof Replacements
Getting a new commercial roof is made easy when you choose the experienced craftsmen at Roofing Monkey! Our team members have decades of experience replacing commercial roofs. We are experts with single-ply roofing, metal roofs, and more! We can provide a free quote on a roof replacement. When it comes to roof replacements especially, being careful is essential. Our roofing specialists are licensed, insured, and have excellent safety records!
Call Us Today!
If you are hoping to find out more about Roofing Monkey's commercial roofing services, you can reach our experts today at 715-716-6493. We are the prime choice for the people of St. Croix, WI. Our roofing specialists aim to help more people save big on their commercial roofs with cost-effective roofing solutions!