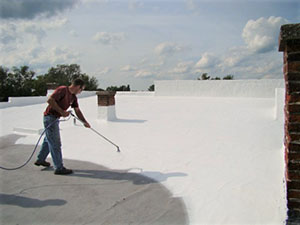 Roofing Monkey leads the way for other commercial roofing companies that provide services in La Crosse, WI. Our roofers have been restoring a range of commercial roofs for a long time now! If you are ready to receive a quote on a roof coating, just call 715-716-6493!
Single-Ply Roofing
Commercial buildings are often protected by some type of single-ply roofing. Luckily, these kinds of roofs are just about as good as new again when a new roof coating is applied! The craftsmen at Roofing Monkey have the experience, tools, and products to keep your single-ply roofing system going strong!
Lower Energy Consumption
In the hot summers, the sun can make your air conditioners work pretty hard to keep a building at a reasonable temperature. Of course, this can drive up energy costs significantly. One way to spend less on energy bills is to get a more reflective roof. This is exactly what a roof coating will do, and you'll notice substantial savings!
A roof coating can reflect up to 85% of the sun's UV rays. This can translate to saving a large percentage on your annual utility costs! With a roof coating, there is no disruptive or expensive tear off. Instead, a roof coating will get the most out of the roof that your building already has. You can count on Roofing Monkey to get you a commercial roof that is conducive to a more energy efficient building!
Other Services
Restoring a commercial roof with a roof coating will get more value out of it. However, the time must be right for a roof coating to work. If your roof is beyond the point of being successfully restored, you can still look to Roofing Monkey for an estimate on a roof replacement. You can always reach out to us whenever your commercial roof needs inspections, repairs, or maintenance.
Call Us Today!
At Roofing Monkey, we have had a lot of success fully restoring commercial roofs. We use roof coatings to further protect commercial buildings in La Crosse, WI. If you are looking to get an estimate on a roof coating, feel free to call our experienced team today at 715-716-6493!