One of the numerous services that we at Roofing Monkey provide is our trusted rubber roof repairs. Many industrial and commercial businesses in the Tomah, Wisconsin region opt for rubber roofing their properties. Since rubber roofs are more durable and long-lasting, it seems like an obvious choice. However, like all roofs, this type of roof is also susceptible to the ferociousness of weather. So, if you are looking for experts to examine and repair your rubber roof, then call 715-716-6493 and have a Roofing Monkey professional visit your business today!
Rubber Roof issues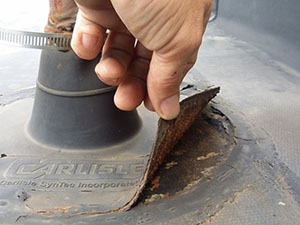 There are a bunch of things that a business should be wary about if you have a rubber roof. Wisconsin weather can be harsh and damaging as standing water from thunderstorms can create small problematic areas in your roof. In the event that the initial harm is not dealt with quickly, it can result in moisture being built under the membrane. Although not visible, this problem can be quite detrimental and costly for your business.
This harsh weather can also cause many other problems like blisters, cracks, and tears on the surface of the roofs. It can also cause membrane tears that would damage the structure of the roof in the long term. Your roof can face a multitude of such problems or just one of them. Whichever problem it faces, it is better to have Roofing Monkey experts take a look at your roof. The initial inspection will allow us to give you all the solutions to fix your rubber roof. Have your rubber roof repaired by us before it turns into a full-scale re-roofing task!
Rubber Roof Repairing Services
Many solutions exist for a damaged roof; however, not all of them are permanent solutions that will be better for your business. Our services involve using the most advanced technology to provide a long-term solution that is cheap and accessible. Stopgap repairs can be successful in the short run but can be a recurring cost. Therefore, we encourage you to go for our expert repair coatings that are resistant to the weather and are cost-effective as well! You can get better solutions from our experts after calling them and explaining your situation. No matter the damage, we will always look for effective and long-term solutions. This way, your business can function peacefully for a long time!
Schedule an Appointment
If you are part of a commercial or an industrial business in Tomah, Wisconsin, and are worried about your rubber roof, then do not hesitate to reach out to us about our repair solutions. You can call us at 715-716-6493 and have a Roofing Monkey expert guide you through your troubles right now!