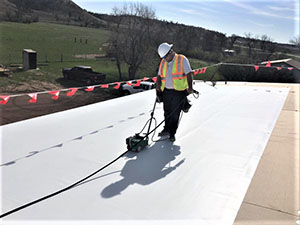 Single-ply roofing systems are arguably the most popular roofing systems in America. They are more advanced than other roofing systems (e.g., asphaltic roofing systems) and give a greater utility to the business owner. In the event that your commercial building has a damaged or outdated roof, you should contact us immediately. Professionals at Roofing Monkey are well-versed in the installation and repairing of single-ply roofing systems. If your commercial/industrial business is located in Tomah, Wisconsin (or nearby areas), then call us at 715-716-6493 to book an inspection appointment with our experts today!
What is Single Ply Roofing?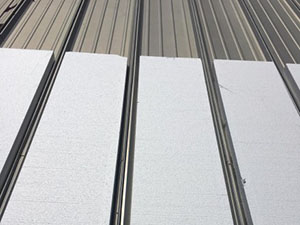 The single-ply roofing systems are considered revolutionary as their build quality makes them easy to install and long-lasting. They have single-ply membranes that are fastened to the cover-board. There are various types of membranes available in the world, like the thermoplastic polyolefin (TPO) membrane or the ethylene propylene diene monomer (EPDM). However, the most popular and effective one is the PVC (polyvinyl) membrane. This single-ply sheet is highly reflective and flexible, meaning it can help reflect the sun's rays, keeping the temperature below the roof relatively cooler. A synthetic polymer coating is usually applied on top of the single-ply sheet to make them further resistant to the weather conditions of Tomah, Wisconsin.
Single Ply Roofing by Roofing Monkey
Roofing Monkey has trained and dedicated individuals that can help in installing or restoring your commercial roofs. Our services include installing roofs, repairing, and restoring roofs. Roofing Monkey's single ply roofing methods are extremely beneficial as we tend to reduce waste costs and are as energy-efficient (environmentally friendly) as we can be.
Our experts can help recover part of your damaged roof by installing single-ply thermoplastic systems. These systems will be cost-effective (as part of your roof will be involved in the recovery process) when compared to a full roof reinstallation.
The single-ply sheets coupled with the quality of our service will ensure the durability of your roof as well as the durability of your pocket. The installation and maintenance of such roofing systems are key, and our professionals are experienced enough to handle the restoration/installation of your roofs!
Protect Your Future
If your commercial/industrial building is in Tomah, Wisconsin (or nearby areas), you can count on Roofing Monkey to cater to all of your flat roofing needs! We deal in restoring, installing, and maintain single-ply roofing systems as well as other roofs! To know out more about our expert services or to book an appointment, call us at 715-716-6493.