A roof coating is a method of restoring an ailing roof by applying a coating to its surface. All types of roofs, including commercial ones, can sustain damage due to severe weather. That is why building owners need to protect their roofs to ensure they last as long as possible. If you are in Chippewa Falls, WI, there is no better choice for you than Roofing Monkey. For many years, our crew has been applying roof coatings to serve the commercial and industrial building owners of Wisconsin. They will be delighted to serve you as well! If you are a commercial building owner and would like more information on a roof coating, call us today at 715-716-6493.
Benefits
What makes roof coatings a great choice for commercial buildings is the variety of benefits they offer.
First of all, a roof coating can add ten years to your existing roof's lifespan. Not only that, but a coating also ensures that your roof is well-protected.
Furthermore, a roof coating is reflective in nature, meaning that the sunlight that hits your roof bounces back into the atmosphere. As a result, not only can you prevent harmful UV rays from entering your building, but you can also keep the interior at a cooler temperature. All this translates to lower energy costs for you!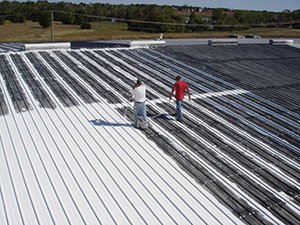 Finally, roof coatings are environmentally friendly. Not only do they require few materials to apply, but they are also recyclable.
There are additional perks to roof coatings. Call us today to learn more!
Top-Class Customer Service
We understand that warm customer service is vital to your overall experience. When you hire our craftsmen for any service, we will strive to display professionalism and warmth.
We will quickly arrive at your property to begin working. Throughout the entirety of the task, we will ensure to complete each task with excellent workmanship. In addition, we will only use premium roofing materials.
This combination of exemplary workmanship and premium roofing materials makes for top-class customer service.
Contact Us Today
Do you want to extend the lifespan of your commercial roof in Chippewa Falls, WI, with a roof coating? Look no further than Roofing Monkey! The roofing specialists at our company are ready to help you. Call us today at 715-716-6493.