Searching for single-ply roofing assistance in River Falls, WI? The crew at Roofing Monkey is ready to help with any kind of commercial roofing service. We can provide a free project estimate. For more info, reach out to us today at 715-716-6493.
Experienced Roofers
Here at Roofing Monkey, our team has ample experience working on single-ply roofing systems. We are commercial roofing specialists that can solve just about any kind of commercial roof issue. We're always looking out for our clients by formulating custom roofing solutions at excellent prices!
With single-ply roofing, you have options. Restoring a single-ply roofing system with a roof coating often pays off! Not only will a roof coating from Roofing Monkey help keep your roof in solid condition for longer, but it will also improve the energy efficiency of your commercial building since it helps reflect more of the sun.
Timely Roofing Services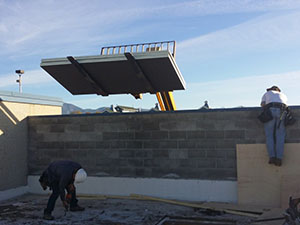 When a roof is leaking, people need help quickly. Unfortunately, a lot of roofing companies aren't great at delivering on their promises. With Roofing Monkey, though, you can always rely on us for fast and effective commercial roofing services. When you give us a call, we will let you know exactly when we will be able to get out to have a look at your roof. Our superb customer service is one of the things that makes us a great company to contact!
Types of Single-Ply Roofing
The main kinds of single-ply roofing include TPO, PVC, and EPDM. If you are unsure about what kind of roof is best for your commercial building, we can run through the details with you and can even provide our own recommendation. With a new single-ply roofing system, your commercial building will be protected for a long time. Plus, these kinds of roofs are great at improving the energy-efficiency of commercial buildings!
Call Us Today!
The roofing specialists at Roofing Monkey are committed to completing commercial roofing projects safely, efficiently, and correctly. This is how we have made an excellent name for ourselves in River Falls, WI! For first class single-ply roofing services, reach out to our team today at 715-716-6493.