As its name suggests, standing seam metal roofing has vertical legs fastened together with a broad, flat section in between. Since standing seam metal roofing contains higher-quality materials, it is typically used for architectural or commercial structures. If your commercial building is in Chippewa Falls, WI, and you would like more details about standing seam metal roofing, call Roofing Monkey at 715-716-6493. Our proficient roofers have been working on the standing seam metal roofs of our neighbors in Wisconsin for many years! They will be more than glad to serve you.
Is Standing Seam Metal Roofing Worth It?
Standing seam metal roofing offers a range of benefits. For example, it keeps the fasteners hidden from view. As a result, moisture, wind, UV rays, and other environmental elements cannot deteriorate the fasteners over time.
It is also worth mentioning that the fasteners can sometimes be displeasing to look at. Standing seam metal roofing can be used to cover them up as well.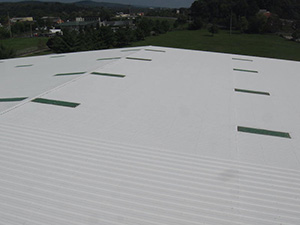 Another benefit to standing seam metal roofing is its strength. The panels that make it up are very strong and cannot be penetrated. Therefore, you are sure to be protected from leaks. Moreover, since the standing seam panels cannot be penetrated or pierced, there are very few fasteners that break or loosen over time.
Furthermore, standing seam metal roofing allows for thermal movement. Various issues can arise if thermal expansion and contraction are restricted. However, the standing seam metal roofing panels are able to expand and contract easily. This, in turn, means that the metal can move freely, such as with slider clips.
As for the durability and lifespan of standing seam metal roofing, it lasts for much longer than its competitor roofing materials, like asphalt shingles.
Keep in mind that if you want to enhance the performance of your standing seam metal roof, you can have it painted with a PVDF coating.
Call Us Today!
If you are a commercial or industrial building owner in Chippewa Falls, WI, feel free to get in touch with Roofing Monkey at 715-716-6493 today. Our qualified roofers are skilled in all types of standing seam metal roofing services. Contact us now and we will be on hand to serve you!