No matter what the type of roof you have protecting your commercial building, you can fully trust the crew at Roofing Monkey to be sure it is getting the care it needs and deserves so that your roof can continue to protect your building. We bring building owners and property managers in the Onalaska, WI area a full list of commercial roofing services and solutions that will let them know they are going to be protected the whole year. From our rubber roof repair services to our roof coating solutions, we have got you covered for what your roof needs and we will be sure that your roof will stay standing the whole season. Your roof was made to last for a long period of time and when you have the team at Roofing Monkey maintaining it, you can be sure it will last you for the advertised time period it was made for. For affordable and dependable commercial roofing services throughout the state of Wisconsin, call us today at (715) 716-6493.
All Around Quality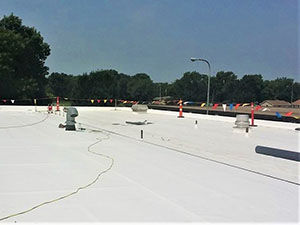 With the team at Roofing Monkey dealing with your commercial roofs needs, your roof will be in the best hands. We are still researching on commercial roofing products that are high quality that have continuously proven to beat father time. With our contractors amazing workmanship and our high quality products, your roof will be destined to succeed and that is what we are looking to do for each and every commercial roof we operate on. With the highest quality, you can breathe easy when you choose to hire the team at Roofing Monkey
Complete Coverage
With Roofing Monkey, you don't have to worry about being referred to a different commercial roofing company. Our team can deal with all types and sizes of commercial roofs and we will be sure your gets the individualized care it needs. Our complete list of services is guaranteed to get you what your roof is needing. Do you have some concerns or questions about your roof? If so, call the team at Roofing Monkey at (715) 716-6493 and let them help your Onalaska, WI commercial roof.