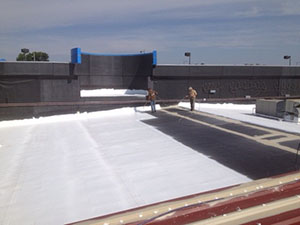 Roofing Monkey is proud to bring building owners, property managers, and more throughout the Marshfield, WI area first-class roof coating and restoration services. Our roof coatings and restorations continue to be one of our most popular services and for good reason! With a long list of benefits, roof coatings can deliver nearly all the same benefits as a brand-new roof and at a fraction of the cost! Our roofing professionals are here to help your roof succeed with confidence for years down the road, reach out today at (715) 716 – 6493 and schedule your roof for inspection to find out if a roof coating is the best course of action to ensure your roof can get the job done right all year long!
Only the Best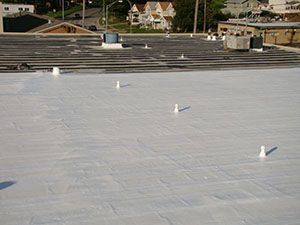 At Roofing Monkey, we know it's our job as a full-service commercial roofing contractor to bring you the best and that's exactly what we do. With professionally trained roofers, we bring you only first-class products that will keep things protected long into the future and that's why we use Conklin roofing products for our roof coating and restoration services. Conklin roof coating products have been around for decades and their incredible strength and durability continue to impress! When our roofers are applying a fresh Conklin roof coating to your roof, you can be confident that your roof will once again be able to deliver the trusted, watertight protection it was intended to. Conklin roofing products are American made and we're proud to bring you the best! Don't stress when thinking about your worn or aging roof before you find out if a roof coating can help restore it to a prime condition!
Call Today
Let the roofing professionals at Roofing Monkey help you get a long, successful life from your building's roof in Marshfield, WI. Our roof coating and restoration services are a great way to get the most from your roof and investment and ensure you can stay protected during any season! With a fresh roof coating application, you can remain confident in the protection of your building and focus on your other tasks at hand. Find out more today, give our team a call at (715) 716 – 6493.