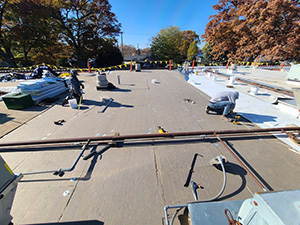 Flat roofs have been common on commercial buildings for many years, thanks to the many benefits that this roofing type offers. Flat roofs are strong, stable, and boast a long lifespan. However, over time, your roof will sustain damage. Roofing Monkey in Seymour, WI, is here to offer the flat roof repair services you need. To learn more, call us today at 715-716-6493!
Benefits
As its name suggests, a flat roof is almost completely flat, with only a slight inclination of less than one degree. Flat roofs offer a wide variety of benefits to building owners.
To begin with, flat roofs are easy to maintain, which can help you reduce costs over time. With proper maintenance and repairs, they can last up to 30 years.
Flat roofs are also durable, able to withstand harsh weather conditions, such as high winds, rain, and snow. You can even store your HVAC system on your flat roof, thanks to its strength.
Finally, flat roofs are very cost-effective. Since they are energy-efficient, there will be less strain on your HVAC system, which translates into lower utility bills. In addition, installing and repairing your flat roof is also quite affordable.
Common Forms of Damage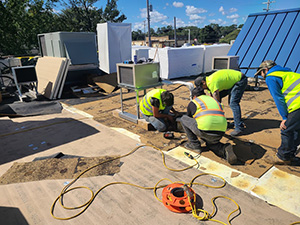 There are various forms of damage your flat roof could sustain:
Water Damage
Water damage is the most common issue for flat roofs. If you see water pooling on your roof, stained walls and ceilings, or blistering and peeling paint, then you should contact your contractor. Water damage is serious, and you should address it as soon as possible.
Cracks
Cracks on your roof are usually visible, but they can easily expand and develop into larger problems. An expert will be able to easily identify even the smallest cracks, tears, and depressions. This is why we recommend scheduling regular inspections.
Additional Layers
Many flat roofs have an additional layer of material, such as PVC, TPO, or EPDM. These extra layers can also sustain damage and require repairs.
Contact Us
If you're looking for flat roof repair services in Seymour, WI, you have no better choice than the team at Roofing Monkey. We will ensure your roof is in optimal condition! To learn more, call us today at 715-716-6493.