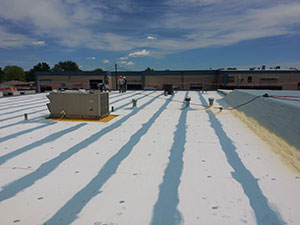 Commercial and industrial building owners in Wisconsin keep looking for ways to extend the lifespan of their roofs. There is no better way to do this than with a roof coating! If your building is in Lake Hallie, WI, Roofing Monkey is your top choice for all your roof restoration needs, including a roof coating. With our experience solving a wide range of roofing problems, you can trust our fully trained and insured craftsmen to display complete dedication and high-quality results. They have been in the construction industry for many years and continue to show unbeatable customer service. Schedule your roof coating today by calling us at 715-716-6493!
Why Consider a Roof Coating
A roof coating ensures that your roof remains in optimal condition for its intended lifespan. We know that the weather in Wisconsin can be harsh. A roof coating will significantly help your building be more protected against the elements.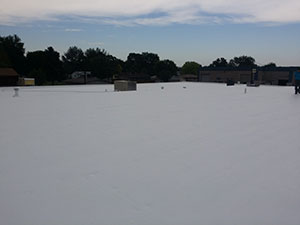 In addition, the reflective nature of a roof coating reduces the load on the HVAC system by reflecting heat away from the roof. Over time, a roof coating can even end up paying for itself through reduced cooling costs.
If your current roof is damaged, a roof restoration can be a good alternative to a complete replacement. A coating can save you both time and money! Not all roofs are good candidates for a roof coating restoration, but our experts can walk you through the process and help you make the best choice for your building.
A roof coating offers improved protection against leaks, thanks to its seamless design. Keep in mind that seams are the most common place for leaks to develop. A roof coating will add a layer of waterproof protection to the entire surface of your roof.
Our Roof Coatings
There are several different types of roof coatings. As a renowned roofing company in Wisconsin, we are delighted to bring you the best solutions, while keeping in mind your budget and preferences.
With our experienced team as your roofing partner, you can count on your commercial roof to protect you for many years to come!
Contact Us Today
If you own a commercial or industrial building in Lake Hallie, WI, reach out to the skilled professionals at Roofing Monkey. Call us today at 715-716-6493, and let us help you take care of your roof!