If your existing commercial roof has recently started showing signs of deterioration, you should take action before the damage worsens and affects the interior of your building. Sometimes, the best course of action is a new roof installation. An installation is a very large project, both in terms of time and money. This is why you should only choose the best craftsmen for the job. If you're a commercial or industrial building owner in Lake Hallie, WI, Roofing Monkey is the leading company for all your commercial roofing needs, including a new roof installation. Contact us today at 715-716-6493 for more information on our services!
Flawless New Roof Installation
As a renowned roofing company in Wisconsin, we are proud to provide flawless customer service to our valuable clients.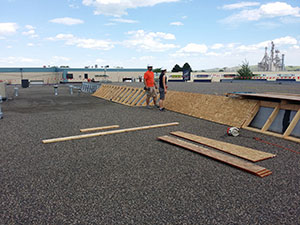 Many times, with the appropriate repairs or restorations, your existing roof can return to its original condition and offer at least another decade of safety for your building. However, we understand that a weakened roof must sometimes be dismantled and replaced. Regardless of what the solution for your situation is, our skilled roofers will determine the right course of action with their in-depth roof inspection and knowledge of the industry.
Why Choose Us
For a project as large as a new roof installation, you need a team who can place your interests in first place. We are clearly the right company for you!
Throughout the entirety of your roofing job, we will keep you updated to ensure you are always aware of what is going on. Ultimately, we strive for the final results to meet or exceed your expectations. Come see for yourself why so many building owners in Wisconsin choose us.
Contact Us Today
If you are a commercial or industrial building owner in Lake Hallie, WI, and you are looking for a new, long-lasting roof, contact the team at Roofing Monkey. Our roofing specialists are known across the state for their top-of-the-line commercial roofing solutions. They have many years of experience, and they will be honored to serve you to the best of their ability. Call us today at 715-716-6493! We look forward to partnering with you.