Are you beginning to see leaks in your roof after there is a heavy rainstorm? Perhaps you have also begun to see ponding water on your roof a few days after it rained. If so, you should reach out to the flat roof repair experts at Roofing Monkey. You can call us at (715) 716-6493. We offer great roofing estimates, so feel free to ask for one when you start seeing troublesome signs. Our team of skilled roofing specialists will evaluate your Onalaska, WI flat roof to see what the best option is for your roof.
Why You Should Repair Quickly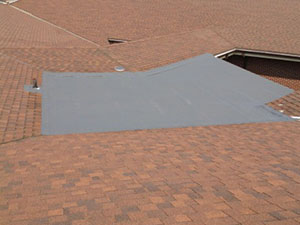 If you have found a few discolored spots on your roof, or any other signs of concern including cracking in your roofs membrane, pooling water, or ponding water, it's a good idea to reach out to a commercial roofing company like Roofing Monkey as soon as possible. You might be thinking that a tiny leak isn't going to deal much damage, but you would be thinking incorrectly. Any part of your roof that is letting water in can potentially deal immense damage to your buildings structure, even if it isn't in your sight. By the time that leak expands into something more concerning, a replacement or an extensive repair process could be necessary. Therefore, we recommend all business owners and property managers in Onalaska, WI to contact us as soon as possible.
Common Problems With Flat Roofs
If you are uncertain on whether you should have an expert take a look at your roof, we have a list of a few things you should be looking out for. If you are noticing any of the following, call us at (715)-716-6493.
Blisters, punctures, cracks
Recurring leaks that won't go away
Loose flashing
Roofing membrane is lifted at its seams
Pooling water: water that is trapped underneath your roofs membrane
Ponding water: water that is staying on your roofs surface for at least 48 hours after it has rained
To schedule a time for a flat roof repair estimate for your Onalaska, WI building, contact our team at (715) 716-6493.