Metal roofing has become increasingly popular for property owners across the nation, thanks to its many benefits. If you would like help or more information on installing your new metal roofing, Roofing Monkey in Pine Grove, WI, is here to help! Call us today at 715-716-6493 to learn more.
Metal Roofing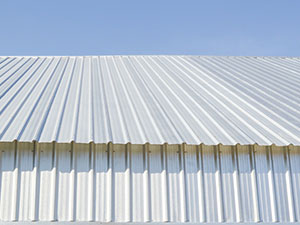 Metal roofing is a sheet, or numerous pieces, of metal, that cover your roof. Multiple types of metal are used, but these are some of the most common ones available:
Galvalume steel
Galvanized steel
Copper
Zinc
Aluminum
They are also subdivided based on the panel styles. There are various options to choose from:
Standing Seam
With this option, metal panels are interlocked at the edges to produce a seam. The fasteners are attached so they are hidden underneath the roof, making your building more visually appealing. This roofing type is often considered the best one.
There are also additional types of standing seam roofing. Our team can explain the differences between each one and help you make the best choice for your situation.
Exposed Fastener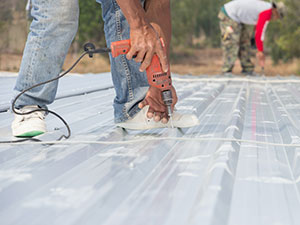 Exposed fastener roofs are considered more economical. In this case, the heads of the fasteners are visible, since they go through the metal and into the roof deck.
Stamped Profiles
Stamped profiles are an excellent option for those who prefer shingles or texture on top of their roof. There are numerous stamped options available, such as shingles and tiles.
Benefits of Metal Roofing
Metal roofing offers several benefits. Most importantly, it is a very durable roofing type that can last for many years. With proper maintenance, it can last for two to three times longer than traditional roofs. Metal roofs also require minimal maintenance, and the installation process is quite simple.
Metal roofs are fire-resistant and withstand severe weather conditions. In fact, they have the highest ratings for hail impact and fire protection and can even withstand hurricane-force winds. They are ideal for shedding snow and rain.
Metal roofs are also known to be highly energy-efficient. They can reduce cooling costs by up to 25% and are very environmentally friendly. Not only does this save you money, but it can make your business more eco-friendly.
Contact Us
Metal roofing can be incredibly advantageous for your building, but you need to ensure a correct installation. If your building is in Pine Grove, WI, contact the team at Roofing Monkey. Our skilled technicians will successfully complete your job. Call us today at 715-716-6493!