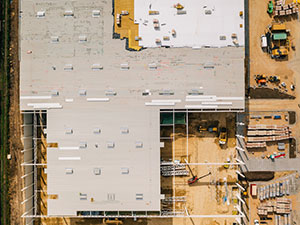 If high-quality commercial roofing services are conducted on your roof, it will go a long way towards keeping it in an optimal state for many years to come. There are a great many commercial roofing services, such as roof repairs, leak detection, and roof coating, that are designed to enhance the longevity of your roof. At Roofing Monkey, we aspire to provide commercial building owners with trouble-free protection season after season. Hence, if your commercial building is located in Lakeland, WI, just reach out to us at 715-716-6493!
An In-Depth Roof Inspection
A roof inspection happens to be the precondition of all the other roofing services. At Roofing Monkey, regardless of the type of your roofing system, our expert craftsmen are capable of carrying out a detailed inspection of your roof. They are able to determine the issues with your roof before they get out of control and result in costly repairs down the line.
Unmatched Repairs, Restoration, and Replacements
If your commercial roof runs into a hindrance on its pathway to success, based on its existing state, it could require either some repair or restoration to get back to its optimal state. If its condition gets out of control, you may even have to resort to a wholesale roof replacement service as well. However, you should know that there is nothing to worry about. No matter the type of job at hand, our proficient roofers are always focused on one thing, and that is attaining the highest degree of customer satisfaction. For that, you can rest assured that they will carry out a flawless job!
Reach Out Today!
The dynamic weather of Wisconsin can prove to be a risk for your commercial roof. Therefore, you need to have access to the most supreme commercial roofing services. If you are a commercial building owner in Lakeland, WI, then Roofing Monkey is your best option. Get in touch with us at 715-716-6493 and we will be on hand to serve you!