What does it really take to keep your roof around for decades more? It's hard to know what problems will come about with unpredictable storms and unforeseen roofing issues. One thing that is for sure, though, is that the team at Roofing Monkey can help with an array of commercial roofing services by highly trained professionals. To learn more about our services or to get a free estimate on a project in Hudson, WI, give our team a call today at (715) 716 – 6493.
Free Roof Inspections
Getting your roof the help it needs is just a matter of choosing the right roofing company to inspect your roof on a regular basis. Roofing Monkey can keep up with roof maintenance and will keep your roof in great condition. Just reach out to us a couple of times per year for free roof inspections!
Roof Repairs
A commercial roof can experience a wide range of problems as time passes. Here at Roofing Monkey, we are ready for anything. We are commonly hired to repair commercial roofs. We fix problems such as ponding water, roof leaks, seam separation, and much more.
Roof Coatings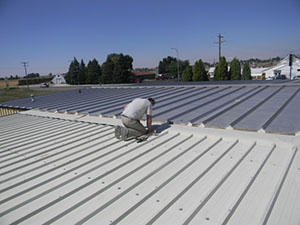 If you are looking for a cost-effective way to get more time out of your roof, a roof coating might be the best route. This affordable and simple service can benefit your roof and building in a number of ways. This lightweight layer is completely seamless and will prevent roof leaks and roof deterioration.
Roof Replacements
Time for a new commercial roof? The roofers at Roofing Monkey will install your new roof perfectly and haul away the old one. We would be happy to give you a free quote on a roof replacement. Our team always does its best to get out to clients soon after they reach out!
Call Us Today!
Could your roof benefit from some commercial roofing services? Whether it's a repair, roof coating, or roof replacement, the team at Roofing Monkey has done it all! We provide free roof inspections and will be over to have a look at your roof soon after you give us a call at (715) 716 – 6493. Our seasoned roofers look forward to helping new clients in Hudson, WI!