In the market for a reliable commercial roofing contractor? If you are in Hudson, WI, you can look into the experienced team at Roofing Monkey. We continue to cement our spot as one of the top commercial roofing companies in the state. To get more information on our commercial roofing services, give us a call today at (715) 716 – 6493.
Timely Project Completion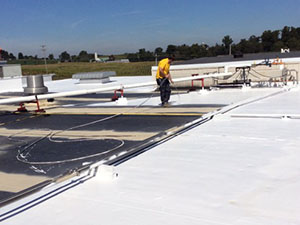 Getting the job done on time is important, especially when it comes to commercial roofing. Business owners need to get back to doing what they do without the distraction of having people working on their building. With Roofing Monkey, you can anticipate timely project completion. We work efficiently to get projects done on time without sacrificing quality.
Roof Restoration Specialists
At Roofing Monkey, we believe in restoring commercial roofs with roof coatings. We have seen firsthand on many occasions how effective roof coatings are at stopping commercial roofs from leaking. By restoring your commercial roof, you can put off the need for a costly roof replacement.
Single-Ply Roofing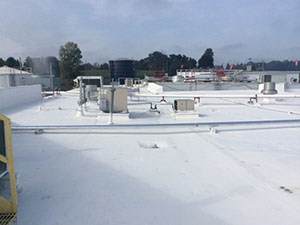 Is your commercial building protected by a single-ply roofing system? As commercial roofing experts, our roofers have years of experience repairing, restoring, maintaining, and replacing single-ply roofing. Scheduling regular roof inspections from our team will enable us to maintain its condition and prevent costly roof issues from forming.
Why Roofing Monkey?
There are a lot of ways that you can strategically save time and money on a commercial roof. First and foremost, this valuable asset needs the right people taking care of it. With Roofing Monkey, your commercial roof is in the hands of licensed, insured, and experienced commercial roofing specialists. Our excellent customer service makes the whole process easy. Once we've realized what it is your roof needs, we can provide you with a free quote on the project!
Call Us Today!
Finding a commercial roofing contractor you can count on for cost-effective commercial roofing services will pay dividends. Roofing Monkey aims to continue being the obvious choice for the people of Hudson, WI. We continue to deliver high-quality services at great prices. You can set up a free roof inspection by simply calling us at (715) 716 – 6493.