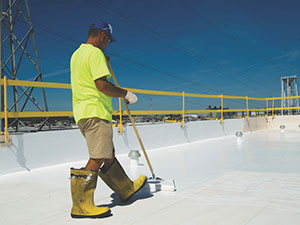 Considering the availability of a great many commercial roofing contractors in Wisconsin, picking the right one for your commercial roof can be a daunting task. Amongst the things that you should have on your checklist of the construction company, you are looking to hire, include the prices, experience, and customer reviews of the company under scrutiny. With that being said, as a commercial building owner in Eau Claire, WI, you can save a great amount of time in your quest for the finest roofing contractor by giving Roofing Monkey a ring. Regardless of the magnitude or nature of your commercial roofing task, our seasoned roofers are equipped to provide top-grade, custom-tailored solutions. Call us today at 715-716-6493 for more details!
A Full-On Roof Evaluation
Roof inspections, at regular intervals, are integral to the correct functioning of a commercial roof. At Roofing Monkey, each of our roof inspection plans is detailed and features fair rates. The reason behind this is that we want to make sure that every commercial building owner in Eau Claire, WI, has a reliable roof at their disposal without any financial or mental pressure.
As soon as our roofing specialists have run a survey of your roof, they will provide you with a no-obligation estimate of your roofing project.
Long-Lasting Solutions
Regardless of what your roof needs – some repairs, a coating, or a full-fledged replacement – with our committed roofers serving you, you can rest easy knowing that your roof is in good hands.
Note that, as a roof replacement project is much more expensive and more tedious than other repair and restoration projects, you should always consider it your last option. Whatever the case is, though, you are guaranteed exceptional craftsmanship from our side.
Safety Compliant Team
Always following the safety guidelines laid down by the roofing industry of Wisconsin, irrespective of the job at hand, Roofing Monkey puts the safety of its clients at the very top of its priority list. We work hard to get rid of as many possible risks as possible by bringing matchless customer service to the table.
Give Us a Call Today!
On the quest for a top-rated commercial roofing contractor in Eau Claire, WI? Well, look no further than Roofing Monkey. Give us a call today at 715-716-6493 and we will be right at your doorstep!