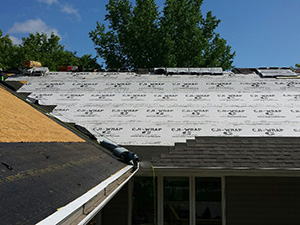 The team at Roofing Monkey in Truax, WI, stands out as a reliable and trusted roofing company committed to exceptional craftsmanship. If you're a building owner in the region looking to enhance the beauty and durability of your roof, look no further than our shingle roof replacement services. With our expertise and dedication to customer satisfaction, our crew has become the go-to choice for property owners across the area. Call us today at 715-716-6493 to start on your project!
Benefits of Shingle Roofs
Shingle roofs have been a popular choice for many years. The weather in the area can be severe, from heavy snowfalls to intense rainstorms. Shingle roofs offer excellent protection against the elements, ensuring the longevity and integrity of your property. They are durable, resistant to impact, and provide effective water shedding. Shingle roofs also come in various styles and colors, allowing you to enhance the overall aesthetics of your property while providing reliable protection.
Your Trusted Partner
We have built a solid reputation in the region as a leading provider of shingle roof installation services. With our years of experience and skilled team of professionals, we are well-equipped to handle shingle roof projects of any size or complexity. From homes to commercial buildings, we deliver exceptional results that exceed customer expectations. When you choose us, you will work with a partner dedicated to providing top-notch craftsmanship and unmatched customer service.
Installation Process
Our shingle roof installation process begins with a detailed consultation and assessment, where we consider your specific needs and help you choose the right shingle type, color, and style for your property. We then prepare your property by protecting surrounding areas, removing the existing roofing material, and ensuring the underlying structure is in good condition.
Our highly skilled professionals meticulously install the shingles, paying attention to alignment, secure fastening, and effective water shedding. Once the installation is complete, we conduct a thorough clean-up and inspection to meet our rigorous standards. We believe in customer satisfaction, so we perform a final walkthrough, address any concerns, and provide guidance on maintenance and care.
Call Us Now
If you're a building owner looking for shingle roof installation services in Truax, WI, our expertise, commitment to quality, and customer satisfaction make the team at Roofing Monkey your ideal choice. With our meticulous installation process, you can trust that your new roof will provide reliable protection and enhance the beauty and value of your property for years to come. Experience what it's like to work with a trusted roofing partner. Call us today at 715-716-6493 to get started!