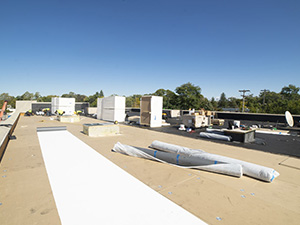 Due to its numerous benefits and overall usefulness, single-ply roofing is widely chosen as the roofing system by commercial building owners in New Richmond, WI. Not only do the single-ply membranes last longer than other roofing systems, such as the asphaltic roofing system, they are also quite easy to install. There are three types of single-ply membranes to choose from, TPO, EPDM, and PVC. Of these, the most popular and useful ones are PVC membranes since their reflectiveness and flexibility enhance the energy efficiency of your commercial building, thereby cutting down on your utility bills. For all your single-ply roofing needs in New Richmond, WI, Roofing Monkey is delighted to be at your service. Reach out to us today at 715-716-6493 and rest assured knowing that your commercial roof will soon return to its best condition!
A Plan That Works for You!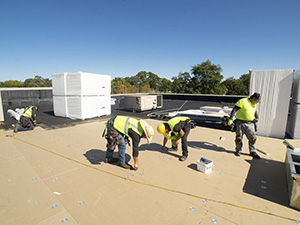 At Roofing Monkey, we can take care of inspection, installation, repair, restoration, and even replacement of your single-ply roof. We have plenty of customized roofing plans with affordable prices that are tailored to the needs of our customers. Whatever the scale or nature of your single-ply roofing project, our roofing specialists possess the required expertise to mold their services according to your best interest and provide you with a neat and tidy output.
Why Choose Roofing Monkey for Single-Ply Roofing?
Although a single-ply roofing system is extremely effective in protecting your commercial premises, without proper maintenance and restoration, it can become ineffective before the expected time. If you hire the roofing technicians at Roofing Monkey, you can rest easy knowing that they will tend to every single need of your commercial roof, contributing to its proper maintenance. Furthermore, at Roofing Monkey, we believe in attaining the highest level of customer satisfaction and for that, our seasoned roofing experts utilize only the premium roofing products on your roof.
Schedule an Appointment!
Whether you need to install, repair, restore, or replace a single-ply roofing system or any other roofing system for that matter, Roofing Monkey is your best bet in New Richmond, WI. Contact us at 715-716-6493 to learn more about our single-ply roofing services or book an appointment with our qualified crew!