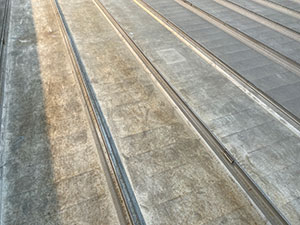 When it comes to protecting your commercial building, there is a wide variety of roofing systems to choose from, such as single-ply roofing, built-up, or pitched roofing. However, one roofing type that can offer excellent protection is standing seam metal roofing. Installing this roofing type can be quite complex. You need to hire a knowledgeable contractor for the job. If you are a commercial or industrial building owner in Altoona, WI, you have no better choice than the team at Roofing Monkey. Our specialists have many years of experience working with a variety of commercial roofs, including standing seam metal roofs. When you hire us, you can rest assured that your roof is in the best hands. For more information, call us today at 715-716-6493!
Benefits of Standing Seam Metal Roofing
There are many perks to standing seam metal roofing. First of all, this roofing type consists of concealed fasteners. This means that there won't be hundreds of screws lying on your metal roof that could potentially develop leaks.
A standing seam metal roof is also quite durable. It has a lifespan of up to 50 years, given that you follow a regular maintenance schedule.
Furthermore, a standing seam metal roof is considered a cool roof. This means that it doesn't absorb the sun's heat. Instead, it reflects the sun's radiation back into the atmosphere. As a result, your building's interior temperature remains cooler, reducing your energy costs.
There are many other benefits to standing seam metal roofing. For more information, call us today! We'll be happy to answer any questions you may have.
World-Class Workmanship
We believe that no roofing task can succeed without world-class workmanship. Therefore, whenever you hire us for your roofing project, we always display top-notch quality.
In addition, we only use premium roofing materials. Whenever we work on your roof, you can count on it lasting for many decades to come.
Call Us Today!
Do you own a building with a standing seam metal roof in Altoona, WI? Are you looking for reliable maintenance services? There is no better choice for you than Roofing Monkey! Call us today at 715-716-6493, and we will be glad to serve you.