If you are looking for a roofing company that aims to minimize costs and hassle, you have come to the right place! Roofing Monkey is a proven roofing company that provides a range of single-ply roofing services to those in St. Croix, WI. You can give our office a call today at 715-716-6493 and we will figure out a time to come by and inspect your commercial roof.
About Single-Ply Roofing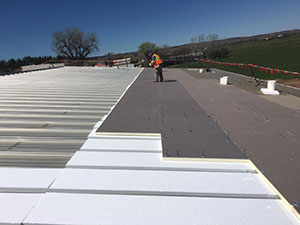 Why are single-ply roofing systems so often found on commercial buildings? Well, first of all, there are a few different types of single-ply roofing, each of which has different strengths. These options make it more likely to get the right roof for your specific building. Single-ply roofing is the perfect solution for flat or low-slope roofs.
Since single-ply roofing is rolled out in wide strips, these roofs have very few seams. This makes it more challenging for water to find any weak spots. Plus, when you have the team at Roofing Monkey installing your new single-ply roofing system, you can rest assured that it will be installed flawlessly. In the future, we can also be there to maintain its condition!
Lower Energy Costs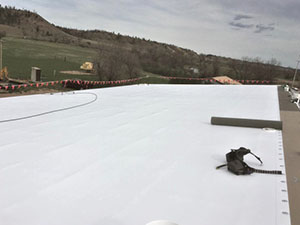 At Roofing Monkey, we do what we can to lower energy costs for our clients with our energy-conscious roofing solutions. A lot of single-ply roofing systems are excellent at reflecting the sun, therefore leading to spending less on energy bills! We know that staying energy efficient is important for our clients, and we do what we can to help this cause with our roofing services!
Experienced Craftsmen
The roofers at Roofing Monkey are very familiar with single-ply roofing. Since they specialize in commercial roofing, they have been hired for single-ply roofing repairs, restoration, and replacements! We're a company that can handle any kind of commercial roofing service and can provide you with a free project estimate.
Call Us Today!
Receiving assistance from single-ply roofing experts is made easy with Roofing Monkey. Our great customer service experienced craftsmen, and timely project completion makes us the top choice for those in St. Croix, WI. Just call us at 715-716-6493 for all of your single-ply roofing needs!