The contractors at Roofing Monkey will never stray away from a challenge. Our crew has seen multiple different kinds of roofing problems and we have a long history of finishing commercial roofing jobs successfully. If you are in Marshfield, WI and you are in need of commercial roofing experts who are familiar with single-ply roofing, give our team a call at (715) 716-6493.
About Single-Ply Roofing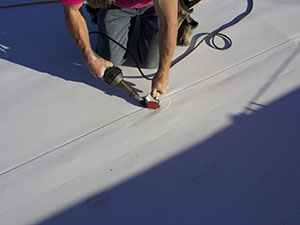 Why is single-ply roofing popular on commercial building? Single-ply roofing is popular because it has been proven as one of the best commercial roofing systems for durability. Single-ply roofing has no or a very little amount of seams. This means you will get to deal with lower roof maintenance costs.
There are many different kinds of single-ply roofing. If you are needing a completely new roof, you will more than likely be choosing between TPO, PVC, and EPDM. The team at Roofing Monkey will chat with you about which of those is best for your building. These kinds of single-ply roofing have differing attributes. Our crew will help you while you are choosing the best one for you.
Roof Coatings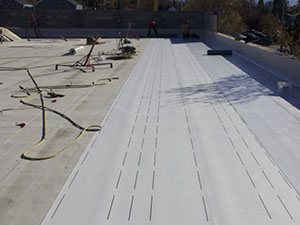 Roof coatings go hand in hand with single-ply roofing. It has been shown that single-ply roofing has benefited from a roof coating. Roof coatings will prevent you from having to replace your roof earlier than you want to. Coatings will allow for your roofs condition to go back in time to when you first got it. This helps your roof last longer.
Why Roofing Monkey?
There are very many commercial roofing companies for you to pick from, but no one is made how we are made. Roofing Monkey from the competition because of our great craftsmanship, excellent customer service, and one of a kind prices. We are looking forward to showing new clients across the great state of Wisconsin why we are top dogs.
Contact Us Today
If you are done with the mistakes most roofers do, it's time for you to hire the crew at Roofing Monkey. We offer a wide array of single-ply services to our clients in Marshfield, WI. If you are interested in learning more about how our team can help you out, call us at (715) 716-6493.