The roof on your commercial building is one of its most important assets. Nevertheless, just like any other roof, a commercial roof can encounter a range of problems during its lifespan. If roof repairs and restorations have not solved your roofing problems, then you may have no other option than a complete roof replacement. Even though this is a large task, the expert team at Roofing Monkey is more than capable of successfully completing such projects. They should be your first choice for roofing services in Lake Hallie, WI. Contact us today at 715-716-6493 for more information on our services!
Customized Roof Replacement
We firmly believe that every single roof is different and must be treated as such. This is why our roofing specialists customize their roof replacement services to your particular building and situation. This personalized roof replacement service will pay for itself in the future!
We strive to provide each of our valuable customers with a roof that will protect them for many years to come.
Why Choose Us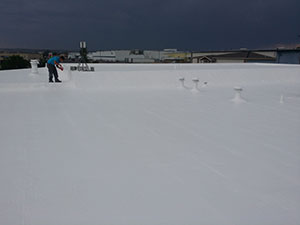 A roof replacement is an immense project. Therefore, you need a contractor who will perform it with complete dedication and tenacity. A roof is a large investment, so you need to choose the right company for you.
When looking for the right commercial roofing company in Wisconsin for your needs, make sure to find the one that is best for you. We are your best option for solving your roofing problems. Come see why so many building owners choose us!
In addition to being customized, our roof replacement services are cost-effective and state-of-the-art. We understand that a roof replacement project can disrupt your business operations. This is why we make sure to complete each task with excellence and efficiency, allowing you to return to your normal routine as quickly as possible.
Contact Us Today
Do you think it may be time to replace your roof? If your building is in Lake Hallie, WI, contact the expert team at Roofing Monkey today. Our technicians will inspect your commercial roof in detail. We can complete your roof replacement flawlessly and quickly. Call us at 715-716-6493 to learn more! We look forward to partnering with you.