Whether you are building a new structure or repairing an existing one, you need the expertise and knowledge of a professional roofing company. Commercial roofing companies provide excellent services, from inspections and maintenance to repairs and installations. They understand the complexities of the industry and can ensure that your roof provides maximum protection to your building. Hiring a professional contractor is the best way to ensure your roof remains in optimal condition. Contact Roofing Monkey in Lake Hallie, WI, today at 715-716-6493 for your commercial roofing needs.
Choosing the Right Company
When looking for the best roofing contractor for you, make sure you research each company thoroughly to understand their experience, customer reviews, and services offered. This can provide you with a good idea of their level of service.
You should ensure the company is properly licensed and insured to protect you and your property. The company should also use modern equipment and have extensive experience with the service you need.
It is also essential to investigate the quality of the materials each company uses, as well as their pricing.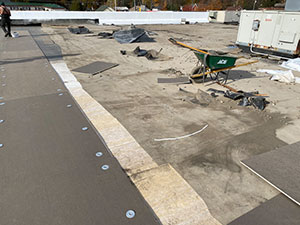 Finally, make sure to read any contract thoroughly before signing it and ensure that it covers all aspects of the job, including a warranty for the work. Taking the time to do this research and comparison will help ensure you make the correct decision for your roofing needs.
Commercial Roofing Solutions
One of the services we provide is roof restorations. We specialize in repairing and restoring roofs, as well as installing new roofs. We can help improve your building's insulation, energy efficiency, and drainage system.
Our experienced technicians use the latest technology, materials, and techniques to provide quality services. Our craftsmen have experience working with many kinds of flat roofs and metal roofs, including TPO (Thermoplastic Polyolefin), PVC (Polyvinyl Chloride), and EPDM (Ethylene Propylene Diene monomer).
We provide commercial roof coatings that protect your roof from leaks, UV rays, and extreme weather. Our services also include waterproofing and re-roofing.
Our team is dedicated to providing cost-effective solutions that are tailored to each customer's individual needs. We take pride in offering our clients the best possible roofing solutions.
Contact Us
If you are looking for commercial roofing companies in Lake Hallie, WI, look no further than Roofing Monkey. Call us today at 715-716-6493 to start solving your roofing problems. We look forward to partnering with you!