Metal roofs have gained popularity in recent years due to their durability, energy efficiency, and aesthetic value. Metal roofs can be made of steel, aluminum, and copper, and can be customized to fit your building's design. Roofing Monkey in Seymour, WI, provides top-notch commercial metal roof installation services. To learn more, call us today at 715-716-6493!
Installation Services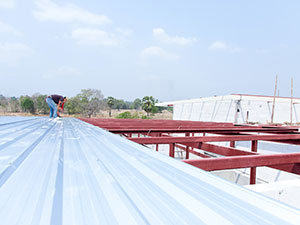 Installing a commercial metal roof involves various steps, including removing the old roof, preparing the roof deck, and installing the metal panels. Metal roofs can be installed on a variety of buildings, including warehouses, retail stores, and office buildings.
Benefits of Metal Roofs
Durability
Metal roofs are highly durable and can last up to 50 years if properly maintained. They are resistant to fire, pests, and extreme weather.
Energy Efficiency
Metal roofs are highly reflective, which can reduce your energy costs by reflecting heat away from the building. This makes metal roofing an eco-friendly and cost-effective choice.
Aesthetic Appeal
Metal roofs come in a variety of colors and styles, allowing you to customize your roof to match your building. They can provide a modern, sleek look that enhances your property's visual appeal.
Low Maintenance
Metal roofs require minimal maintenance, making them a simple option in the long term. You will not need to paint, seal, or clean your metal roof on a regular basis.
Who We Are
Our team specializes in providing high-quality metal roofing installation services for commercial properties. We have many years of experience, so we can recommend the best option for your needs. We offer the following services:
Installation: We will work with you to design and install a metal roofing system that meets your specific needs.
Repairs: We also provide repair services for your metal roof, including leak detection and repairs, panel replacement, and other maintenance services.
Maintenance: We offer regular maintenance services to ensure your metal roof is well-maintained.
Contact Us
A metal roof is an excellent investment for any commercial property owner. Here at Roofing Monkey in Seymour, WI, you can trust us to provide excellent results. With our range of services, including installation, repairs, and maintenance, we can ensure your metal roof lasts for many years to come. Call us today at 715-716-6493 to schedule your consultation and learn more about our services!