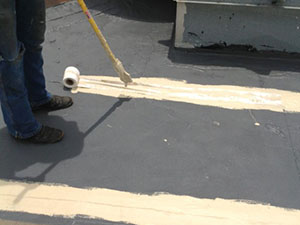 Have a flat roof that could use a bit of work? Whether it's a tear in the membrane or some other type of problem, the team at Roofing Monkey will deliver a timely and effective flat roof repair. If you are in River Falls, WI, call us at 715-716-6493 for help from top commercial roofing specialists.
Essence of a Flat Roof Repair
Roof Inspections
Roofing Monkey inspects roofs for free! Setting up a couple of roof inspections per year from a qualified roofing contractor is crucial for anyone hoping to keep their roof in top condition. When we inspect roofs, we check for any existing problems and do what we can to prevent new ones from forming. We'll always tailor our roofing solutions to better suit the specific needs of your commercial roof!
Roof Maintenance
Maintaining a flat roof correctly takes regular roof inspections and trustworthy roofing technicians. Here at Roofing Monkey, we know that we are able to extend the lifespan of flat roofs significantly through custom roof maintenance plans. By maintaining your flat roof, you will avoid costly roof problems and you won't need to pay to have it replaced any time soon!
Restoring Flat Roofs
When flat roofs start developing leaks, it could be time to think about having it restored. Here at Roofing Monkey, we have a long history of success with roof coatings! When applied by our experienced team, a roof coating will stop a roof from leaking for several years. This service will lengthen the lifespan of your commercial roof while lowering energy costs!
Flat Roof Replacements
Should your flat roof be in too poor of condition to warrant restoring or repairing, it's time to collect estimates on flat roof replacements! You'll notice that the prices at Roofing Monkey are competitive against other roofing companies in the area. Plus, our craftsmanship is world class, meaning your new flat roof will be expertly installed and ready to last decades thanks to our experienced roofing technicians.
Call Us Today!
Roofing Monkey provides fast and effective roofing services for the people of River Falls, WI. If your commercial building requires a flat roof repair, call our team today at 715-716-6493. We will be by shortly after to sort out the best solution.