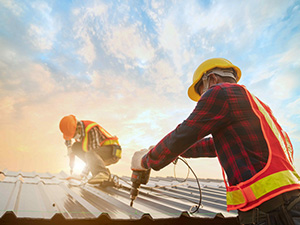 When you've been left with a roof in need atop your commercial property, finding commercial roofing companies that are equipped to help appropriately can be tough. Hiring a commercial roofing contractor is the best way to help your commercial roof succeed as residential and commercial roofing systems differ greatly. With Roofing Monkey working for you, you can rest assured knowing our roofing professionals deliver the custom services and solutions your roof requires and this only helps your roof last. Don't hire any roofing company when you need assistance with your roof, call Roofing Monkey today at (715) 716 – 6493 for superior service in New Richmond, WI.
Inspection & Leak Detection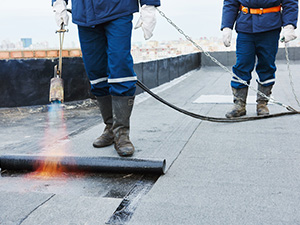 Thorough roof inspections are a valuable service and here at Roofing Monkey, our trained roofers know exactly what to look for when inspecting your commercial or flat roof. Whether you need a routine inspection or if you're calling on us for leak detection, we'll make sure no issues go unfound. Any issues we do find can soon be repaired and resolved by our experts leaving you with a roof destined for success yet again.
Restorations and Replacements
Roof restorations, also known as roof coatings, continue to be a common service our experts provide for many of our customers. This cost-effective roofing service is far more affordable than a roof replacement, but when done at the right time and by the right team, this service can deliver on many of the same advantages as a new roof! We're here to keep your roofing costs and woes to a minimum and roof restorations are often a way we can do this with ease, get a free estimate on a roof restoration today!
Reach Out Today
Whatever your reasons are for needing a commercial roofing company in New Richmond, WI, Roofing Monkey is proud to continue to lead the way for companies in our area. We bring nothing but high-quality products and workmanship that will keep your roof performing at its best during all our seasons. No matter the season, you can be sure our weather won't stress your roof when we're keeping things in check. Reach out to us today at (715) 716 – 6493.