Ready to hire a roofing contractor to restore a roof in River Falls, WI? Roofing Monkey offers highly effective roof restoration services at excellent prices. We provide roofing solutions to a wide range of roof types, including metal, TPO, PVC, EPDM, and more! For a no cost estimate on a roof coating, call us today at 715-716-6493.
Roof Coating Benefits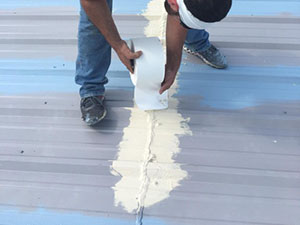 Opting to restore your commercial roof can pay off in a number of ways. Restoring a roof costs a lot less than replacing it. Roofing Monkey will find the right time to restore your commercial roof with a roof coating so that it can last longer. One of our roof coatings will form a seamless protective layer that makes a roof seem like brand new again!
This service is relatively quick, and you can expect your roof to be problem-free for years longer! Another bonus to getting a roof coating is the impact that it will have on your building's energy consumption. After Roofing Monkey restores your roof, it will be more reflective and therefore better at handling the sun. This keeps your building at a more manageable temperature and leads to big savings on energy costs!
Other Services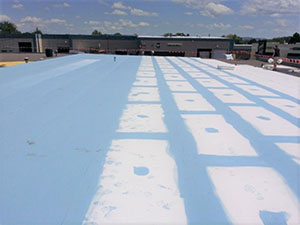 Before a team of commercial roofers have a look at your roof, it's hard to say what it actually needs. One of the great things about Roofing Monkey is that we offer a complete list of commercial roofing services. This means that after we inspect your roof, we will be able to provide the needed solution, whether it's a roof coating or a roof replacement!
Roofing Monkey blends all of the things that contribute to being a great roofing company. This includes competitive prices, exceptional customer support, and first class workmanship. Our roofing solutions help the roofs of our clients become more seamless, fire resistant, and energy efficient!
Call Us Today!
The team at Roofing Monkey is prepared to allow more people in River Falls, WI save money and time on their commercial roofs! If it's time for your roof to get a little help, call us today at 715-716-6493 for a roof coating and other kinds of cost-effective solutions! We provide free roof inspections and project estimates.