Has your roof been through a lot lately and is showing signs of breakage? If so, then the answer to all your troubles is available at Roofing Monkey. Call us at 715-716-6493 if you are in the Tomah, Wisconsin area and are looking for professionals who provide commercial roofing services. We provide a huge variety of services for commercial and industrial clients at economical costs so that your business can thrive under any weather!
Roofing Monkey Commercial Roofing Services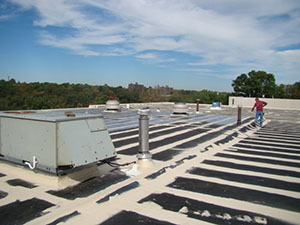 Ignoring small problems (like small structural damage and leaks) with your roof can lead to bigger problems being developed in the future. You can choose to disregard these problems or eliminate them by hiring us and choosing our commercial roofing services. We specialize in restoring commercial and industrial roofs; however, our professionals are trained in many other services like installation and repair tasks.
Our commercial services include roof restorations, roof inspections, and roof repairs. Included in these services are the various tasks that our team performs on your roofs. There are tasks like applying roof coatings, detecting leaks and damages, and other roof maintenance tasks that our experts are more than capable of performing.
Also included in our services are things like waterproofing the roofs. We acknowledge the harsh climate of Tomah, Wisconsin, and recognize the need for better protection. Therefore, all our solutions involve making the roofs waterproof, fire-resistant, and energy efficient (saves on cooling costs by reflecting the sunlight). These added incentives make our services some of the best in the region.
If you are worried about your roof type and if our experts can handle it, then don't be. Our experts are trained in finding solutions for and installing metal roof coatings, single-ply roofs, flat roofs, and other types as well. The Roofing Monkey team is adequately equipped to handle almost any kind of roofing problem that arises in the Tomah, Wisconsin area.
What Makes Us Different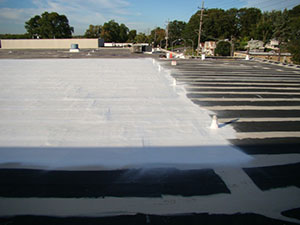 Our team has individuals that have been expertly trained and have earned their position in our company. Along with a professional team, we are a fully licensed commercial roofing company, so you can rest easy knowing we have gone through all the checks and certifications.
What makes us so unique is that our services include custom roofing solutions. If you want to build your own roofing plan, our experts can also help you with that. Custom plans have been set up to allow clients to have more power over restoring their roofs.
We also offer full-service warranties on our contracts. All of these additional benefits allow clients to have more power over their decision about hiring us as their primary roofing contractor.
Reach Out to Us
If you are still not convinced about Roofing Monkey, call us at 715-716-6493 to learn more about our projects. A representative would be waiting eagerly to answer all of your queries. Once you have hired us, you can rest easy, as we are one of the best commercial roofing service providers in Tomah, Wisconsin.